Orange Tuesday - Spring inspired Wedding
Tuesday, May 31, 2011
Just thinking that I fulfilled my wish to have a spring wedding theme, the beauty of sunrise and sunset all together. Green, yellow and orange blended well and not to forget my sunflower cake on my wedding day, these all makes me smile until now. I so love them and . The only thing that did not happen is to have real sunflowers included in my bouquet and in my arrangement because sunflower is still not available at that time but then i'm still happy because some of the things i dream of was realized.
For my first Orange Tuesday and Wednesday White entry, I want to share with you my Spring Wedding theme. Enjoy!
glooming in orange
our unity candle with the sunflower cake on the background
my bouquet with orange gerbera.




Just for a little trivia: Did you know that I am the one who chooses and bought my bouquet flowers at Dangwa, Manila. Two days before my wedding day, i fetch my father and my other siblings at Manila and bought flowers for my bouquet. I really wanted a sunflower but at that time, sunflower was not available. Instead i bought orange gerbera and yellow calla lily and yellow american roses with those cute little flower buttons.
I told my florist to made me two bouquets and this is the second one. Can you see the difference?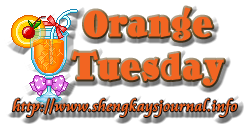 A Mother's thoughts is the most precious of all. Join me as I Journey to Life.