Marriage and Bands
Sunday, August 26, 2012
When hubby and I got married, we didn't bought a new ring. Instead, we used the old silver ring that we bought way back when we are still sweethearts. After a year, we decided to have a new ring and made an arrangement in our local jewelry maker for a ring composing our old ring and the ring that my grand mother gave me.
It was not grand as the men's wedding band featured in the magazine or a nearby mall but we settled for it because of it's significance and value. But because of the car accident we had a few years back, his ring got lost and we could not retrieve it anymore so we are not using one anymore.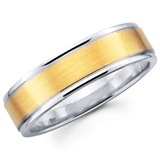 men's wedding band
If given a chance and if our budget permits, we would like to have a new band. We already have a design in mind but i guess it would need a considerable amount of money and with our finances at hand, it's the least of our priorities.