Fashionable watches for his and her
Tuesday, May 14, 2013
Once in a year, we get to celebrate a day for mothers and fathers and what better way to celebrate that special day than giving your love one a beautiful time watch which serves not just a gift but also to convey your love for him or her. I must admit, i'm not prompt and i tend to be late always, funny but it's the truth that's why my watch is very important. Just like today while browsing the net, I chance upon a
fabulous selection of men's and women's watches
which I thought would be a very nice gift.
There are different brands for you to choose from, from high end to something very affordable. There are some which I highly favor, just like this Michael Kors ladies watch and this really awesome Welder gents which i thought your hubby's friend would definitely envy. There are lots of choices and i bet you will be having a hard time choosing just one, if I have all the money in the world, i would love to get all the design and give all my friends and family.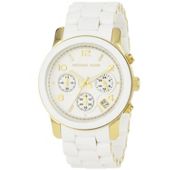 Watches are a must have since it was used in daily basis and for some it conveys many meanings. I even remember the time when i have watched a good movie wherein a man gave the girl a watch and suddenly died in an accident but before drawing his last breath, they promise that they will meet again, somehow, somewhere in a different time and place to consummate their love and it came true when a woman accidentally find the watch. I don't know if you believe in reincarnation but i do and the watch I think serves a big key for their love.
Nonetheless, whatever kind you wish to own would be worth it since it comes with the highest quality and you know that you are getting a great deal and your partner would surely appreciate it for a long time.